Time for a link up! This is a great way to add alittle spice to my blog and maybe get some new readers!
;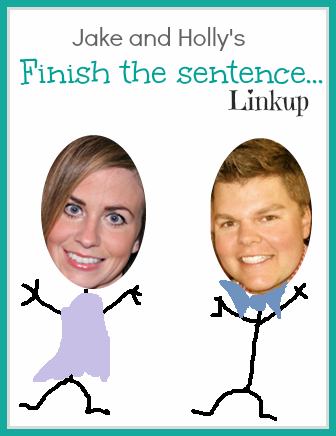 Unlike my sibling(s) (that I love very much)...
I am not obsessed with batman, or any comic books for that matter.
My best friend says
... theres nothing a big glass of wine won't cure.
People call me...
Fly Girl. Long story and you have to be from Avon Lake to understand.
The best part of my day...
the morning coffee. If I don't have my coffee...don't mess with me.
I really don't understand...
how my iphone can be smarter than me. I can upload videos to youtube while posting pictures to my blog while shopping on ebay. I think we live in the jetsons era.
I get really annoyed...
when people post their workouts on facebook. Yes I work out but I don't see the excitement in knowing that you ran 8 miles in 30 minutes while carrying your baby. Some of us are lazy.
There's nothing like a...
new stylish bag to carry around.
Lately, I can't get enough...
Riley Mae. She is such a cutie and I love her so.
One thing I am NOT is
... clean. I was looking in my closet this morning and thought...Oh My goodness. Good thing there's a door!
I spent too much money on...
Groopdealz. I have a problem.
I want to learn....
how to cook and how to sew. There are so many cute fabrics out there and I want to make Riley's clothes.
If I ever met Goldie Hawn in real life , I would
ask her to sing the song for First Wives Club.
I can't stop...
looking at Pinterest.
Never have I ever
... golfed. Unless you count putt putt. Then I totally have!
Reese Witherspoon...
is awesome. Hasn't everyone been drunk before and said "do you know who I am". I glad that she let loose and got rid of the sweet home alabama get up for one night. Go girl! I love legally blonde.
Have a great day!