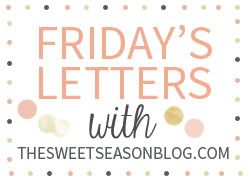 Dear Weekend,
I am so glad your here. Have I told you how much I miss you. I actually get to NOT work this weekend. What a concept!
Dear husband
, I am going to apologize ahead of time for the honey do list and projects I am going to have going on. Sorry:)
Dear Mother Nature
, You and I have to talk! Please can we have a nice weekend. I would love to take the baby outside and enjoy some of the sunshine I am praying you provide.
Dear Laundry
, will you just please stop being lazy and wash yourself?
Dear Pinterest,
I don't know how I ever lived without you and can not wait to try some of your amazing recipes this weekend. Here is some of the things I am pinteresting lately....
I think you can see where our weekend is headin...
YUM....
and super yum......
This is so the truth! Happy Friday!